Public Hearings on the Integrated Waste Management Plan (2011 Review)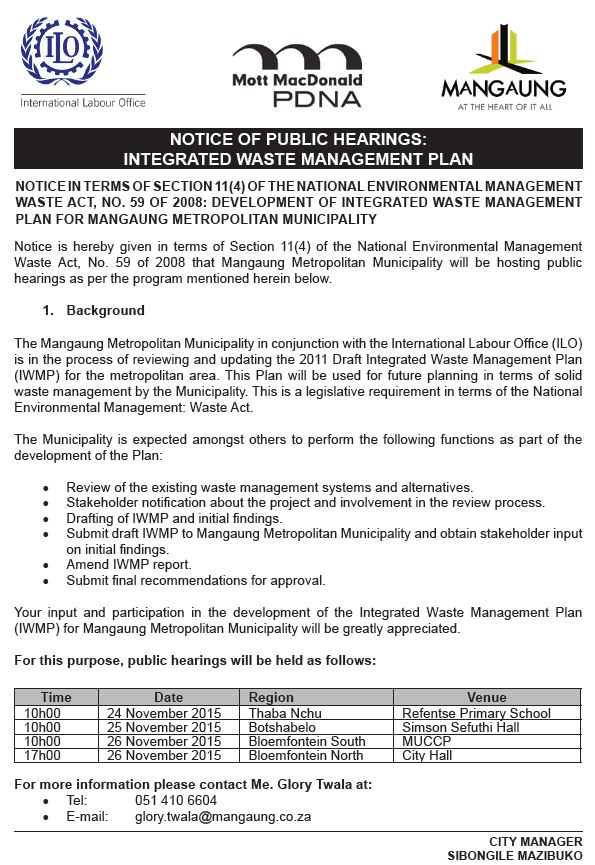 Click here to download the PDF for the Integrated Waste Management Plan (2011 Review)
The National Environmental Management: Waste Act (Act No 59 of 2008) (hereafter referred to as the Waste Act) states in Section 11 that each municipality must develop an Integrated Waste Management Plan (IWMP). An IWMP provides a framework within which local municipalities can deliver a waste  management service to all residents and businesses. According to section 12 of the Waste Act, the  following should be included in the contents of an IWMP:
Demographic information.
Assessment of waste generation, quantities and types.
Status quo of services for collection, minimisation, re-use, recovery, treatment and disposal of waste.
Determination of people not receiving waste collection services.
Identification of poor waste management and its negative health and environmental impacts.
Establishment and implementation of targets and initiatives for waste minimisation, re-use, recycling  and recovery.
Incorporation of best environmental practices.
Identification of implementation measures.
Planning of new facilities for disposal and decommissioning of existing waste disposal facilities.
Indication of financial resources required to implement projects.
Click here to download the PDF for the Integrated Waste Management Plan (2011 Review)